Slim in Time by Design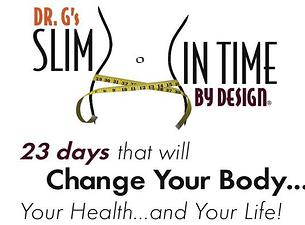 Did you know that the UnitedStates has the third highest obesity rate in the world (1) and that Ohio is ranked thirteenth for people with the most weight state in the country (2)? If you have unsuccessfully searched for a program that works for weight loss and you would rather not be part of this horrifying statistic, then consider "Slim In Time By Design."
"Slim In Time By Design," is essentially for rapid weight loss. It utilizes a specific calorie restricted diet while taking a sublingual, or under the tongue, HCG hormone. HCG stands for Human Chorionic Gonadotropin. This is a hormone that is produced in large quantities during pregnancy. Both men and women have male and female hormones, so this program is just as successful for men!
Dr. G's Slim In Time By Design program will help you conquer your weight loss issues once and for all! This program is real, and it works without slick advertising and no exaggerated claims of success. Typical weight reduction with our program for most individuals is 12-15 pounds in females and 15-18 pounds in males in a 21 daytime-frame.
HCG is responsible for making the abnormal fat reserves of the body available to be burned as fuel. In pregnancy, it is used to protect the nutritional health of the growing baby. When used in conjunction with our program, its function is to rid the body of the abnormal fat deposits. Rest assured that HCG helps to stave off any hunger pangs that a calorie restricted diet may cause. With the application of our proprietary blend of HCG drops, thousands of extra calories begin to flood the system from the abnormal fat being metabolized. For this reason, HCG diets are easier to stick to than a traditional healthy diet that simply restricts calories. What happens when a program is easy to stick to? Success!!!
Slim in Time By Design is a 6 week self-directed program which an individual can do on his or her own. After 3 weeks of a low calorie diet with the HCG hormone administered under the tongue, the patient has another 3 week maintenance diet for a total 6 week program. Individual results certainly vary, but results do occur with everyone.
For those wanting to markedly improve their health and maintain permanent weight loss, we have "Healthy Life by Design Program." This program is a highly individualized, comprehensive, bold, and direct approach to significantly overhaul your body. It can combine aspects of the other program in addition to detoxification, lifestyle and diet modification, nutritional supplementation and counseling, and weight management along with a period of doctor supervision. This extra physician support is very personalized and may contribute to overall health improvement with a greater chance for long-term success in generally enhancing your quality of life.
An important component included with the Slim In Time By Design is our unlimited 10 day satisfaction guarantee. If for any reason you are unhappy with the results within the first 10 days, return the kit/supplements for a full refund. What have you got to lose but the weight?
The best time to have started improving your health and losing weight was yesterday! The next best time is today! Remember… it never costs to come in and speak with Dr. Grilliot. Call and make your appointment with Dr. G today! Tomorrow never felt or looked so good!
To learn more about the life changing programs outlined above, visit www.nwcdrg.com for additional information and videos and/or call: 740-687-0279.
---
To find out if this program is right for you, contact Natural Wellness Centre at (740) 687-0279.